Sea
With its triangular shape, the island of Zakynthos represents the southernmost point of the Ionian islands. The beaches are sandy and the clear, crystalline and calm waters where you can sometimes admire them the sea turtles of the Caretta-Caretta species, among the main ones we mention Ammoudi, Alikes, Aghios Sostis, Porto Koukla, Steniti, Petriti, Laganas, Navagio, Geraka, Mavratzi, Dafni, Kerio Bay, Anafonitria, Agrasi, Alikana, Alikes, Kalamaki, Krioneri, Galazies Spilies, Makri Gialos, Vromi, Kaminia, Vouderi, Porto Zoro, Banana, Aghios Nikolaos, Drosia, Plano, Bouka, Pachia Ammos, Kato Tragaki, Abula, Tsilivi, Vasilikos, Limni, Xechoriati, Aghia Kyriaki, Orthonies and Porto Roma. The sea has fantastic emerald colors, the mountain area is covered by intense vegetation of pines, olives, almonds and vineyards. The population is very friendly and hospitable. Also characteristic is the architecture of the buildings of Zakynthos, with squares and the famous Venetian castle. In the city of San Dionisio, the patron saint of the island, there are also several churches to visit.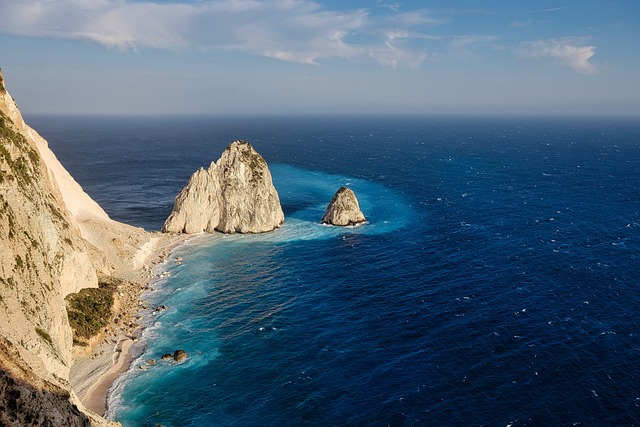 Urban

To visit during trips and excursions: in the capital Zakynthos, the main port, the Venetian Fortress, the church of Aghios Dionisios, Patron Saint of the island, the Municipal Library, the village Mpochali, the Historical Archive, the Museum of Poets of Zakynthos, the Meta-Byzantine Art Museum. In the resort town of Vassilikos the Folkloric Museum 'Memorosa', in the city center of Agrasi the medieval Castle, in the large village of Katastari the Folkloric Museum 'Verzaghio', the Naval Museum in Tsilivi, the Caves of Damianos in Macherado one of the oldest villages in zakynthos. Also noteworthy are the tourist resorts of Alikes, Kalamaki where there are protected beaches for the famous turtles, Laganas, Planos and the inland village of Volimes.
Airport

The 'Dionisios Solomos' airport is about 6 km away from the city of Zakynthos. Olympic Airlines operates several flights from Athens and from Thessaloniki to Zakynthos. A maritime line allows connections between Kyllini in Zakynthos.