Archipelago
The archipelago of the Cyclades islands is named after from their particular circular arrangement around the island of Dilos. The shining white color of the houses, the clear turquoise waters and the intense nightlife make the Cyclades a very popular destination towards these Greek islands. Main tourist attraction are Mykonos, Santorini and Ios, entertainment and leisure places with many nights intense, noteworthy also Andros, Serifos or Sifnos characteristics for the pristine beaches and the stupendous nature with villages of whitewashed houses and the typical traditional local cuisine. There are numerous tour operators who organize trips to these magnificent places by offering stays in hotels to spend the holidays. The territory is generally made up mainly of arid landscapes with rocks sculpted by the wind and the sun. Given the limited extension of the archipelago, moving from one island to another is simple and comfortable.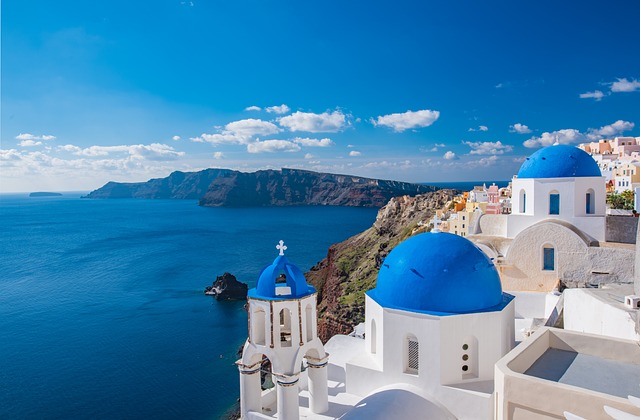 Islands

The main islands of the Cyclades are Amorgos Andros Antiparos Folegandros Ios Kea Kimolos Kythnos Milo Mykonos Naxos Paros Santorini Serifos Sikinos Siphnos Syros Tinos.
Dilos island is one of the archaeological sites most significant in the country, declared a World Heritage Site by UNESCO.
Transportation

The national airline Olympic Airways flies from Athens to Santorini, Mykonos, Naxos, Syros, Paros and Milos. Also from the Mykonos Airport there are direct flights to/from Thessaloniki and Rhodes. Also from the island of Santorini there are flights to Crete, Mykonos, Thessaloniki and Rhodes. Maritime transport allows connections with the continent with the ports of Piraeus, Lavrio and Rafina as well as the islands between them. The central Cyclades with Paros, Naxos and Santorini have frequent ferry connections in consideration of their development tourist so also the Northern Cyclades with Andros, Tinos, Syros and Mykonos. As for the western Cyclades, the islands of Kea, Kythnos, Milos, Serifos, Sifnos, Folegandros and Sikinos the availability of ferries is less. Even less frequent are the connections with Anafi, Amorgos, Iraklia, Shinousa, Koufonisia and Donousa of the Eastern Cyclades. During the summer, fast hydrofoils and catamarans are also used daily, with greater intensity towards Santorini for full day excursions from Rhodes and Crete.
CLIMATE
Typically of Mediterranean origin, the Cycladic climate offers dry, hot summers and mild winters. In the period from October to February, in low season, it is recommended to visit Mykonos and Santorini for their tranquility, in fact the summer periods are chaotic due to the presence of many tourists and hotel reservations must be made in advance. In the winter months temperatures sometimes drop below 12°C, while in summer they often reach 30°C. The islands are frequently affected by the Meltemi, a strong wind coming from the north, with greater intensity in July and August, pleasantly refreshing the heat summer days.

Holidays and anniversaries
The Religious Festival of Agios Vasilios takes place on January 1, the Greek carnival is carried out in the periods of February or March depending on the arrangement of the calendar, Easter Greek Orthodox is one of the most important holidays, while on the 15th of August we celebrate the day of the Assumption.

Geography and territory
The archipelago of the Cyclades islands is made up of a total of 39 major islands, is located in the southern Aegean Sea, between the Peloponnese and Turkey, extending towards Crete. It borders the Saronic Islands to the west and the Dodecanese to the east. Among the characteristics of these islands we mention that Naxos and Andros they are the largest in terms of extension of the territory and also the most fertile. The southernmost of the archipelago is the island of Santorini, Andros the northernmost and Amorgos is the easternmost. As for the fauna present on the mainland, it should be remembered that the same is mainly made up of pigs and sheep and cattle, the sea instead offers a myriad of species of fish. In most cases the interior of the islands is formed by vegetation lush and fertile land.

Related Topics - ionian islands saronic islands malpensa airport islands of greece