Information
The island of Mykonos belongs to the Greek archipelago of the Cyclades, it extends over an area of 86 sq km and has about 7,000 inhabitants. In recent years it has become an international tourist destination which attracts frequent visitors of nightclubs and nightlife lovers. Undisputed gay capital of Greece, cosmopolitan and unscrupulous, the island is frequented by tourists especially for night entertainment even if it is the most pretentious and expensive of the Greek islands. The area consists mainly of low rocky hills and lovely golden sandy beaches with grey-green rocks adorned with prickly pears.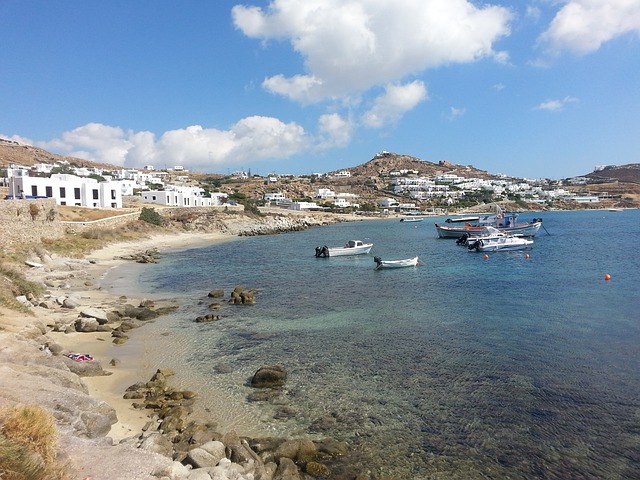 Landscape

The landscape, unique in its kind, is made up of very white houses and small churches isolated, windmills, crowded or lonely beaches, picturesque taverns with alleys full of shops selling popular art and others luxury items. The mild and mild climate, even during the summer, is almost spring-like and the endless sunny days are always accompanied by a light breeze which makes the daytime hours absolutely pleasant and cool at night.
Excursions

Several excursions depart from the island of Mykonos to the deserted sacred island of Dilos. The main city is the homonymous Mykonos, also known as Chora, located in the western part of the island. The pretty center offers chic shops and whitewashed houses dazzlingly adorned with bougainvilleas and geraniums. There are also some decent museums to visit, including that of the windmills, characteristic of the island, as well as numerous churches to photograph. In addition, several boat trips to dive sites depart from the island. The best beaches of Mykonos are on the south coast, including the nudist beaches Paradise, Super Paradise, Agrari and Elia.
Nightclubs
In the context the city has become a modern holiday center with an intense nightlife society and habits that launch a fashion all over the world. Many Greek and international celebrities spend their summer holidays there on the island, it is sometimes possible to meet them along the city streets, or for dinner in the taverns of local restaurants. There are numerous clubs, pubs, shops and discos which in the summer months light up the Mykonian night until the light of dawn.

Transportation
As for transport, the island of Mykonos has an airport that guarantees connections with mainland Greece and the rest of Europe also from Malpensa airport. Also every day there are several ferries that connect the island with Piraeus, Rafina, Thessaloniki and with the other Aegean islands.

Beaches.
Enchanting and clean are the beaches of Mykonos made up of white sand or golden, with a splendid crystal clear sea and an intense nightlife to spend in bars, taverns and discos open until the morning. Ideal for those who want to spend a holiday of pure fun. Among the main sandy beaches and limited in size, as they are located in small bays, we remember that of Agios Stefanos and Megali Amos, moving away from the capital we find Ornos, Agios Ioannis, Psarou, Platys Gialos and Paranga, among the most popular Paradise e Super Paradise, wonderful beaches of Agrari, Kalo Livadi and Kalafati. Nudism is permitted but less widespread than in the recent past. The southern coast is made up of bays and inlets with splendid beaches that you can also reach from the sea, with local boats, directly from Mykonos or Platis Gialos beach, or, walking down the road which leads towards the village of Ano Mera. Paradise and Superparadise they are the best equipped beaches at a tourist level due to their presence of pubs, restaurants and places to dance, with the possibility of practicing favorite water sports.

Pearl of the Aegean
The famous Mykonos belongs to the Cyclades archipelago made up of about 56 islands, most of them they have a rocky territory with a climate temperate by the north-easterly winds. These islands have in common the charm of the characteristic white houses, the paved alleys and the typical windmills. The island of Mykonos offers many beaches of white sand, a splendid sea and an intense nightlife to spend in bars, taverns and discos open until the morning. Defined by some as the queen of Greek nights, Mykonos is the glamorous pearl of the Aegean.

Urban centers
To visit during the summer holidays, the beautiful town and capital Myconos, also called Chora, quaint and picturesque with the main port of the island. Located on the slope of a hill, the urban structure of Chora is arranged amphitheatrically and maintains architecture of Cycladic traditions, with the cubic houses and the intense white color of the building constructions characteristic of these places. The windmills dominate on top of the hill of Mykonos, while in the port they are stationed fishing boats and luxury yachts, the houses separated by alleys and small squares. Among the other urban centers worth mentioning are the tourist resorts of Aghios Stefanos, Tourlos, ornos, kalafati, Platys Gialos and the village of Ano Mera, positioned inland of the island.

Flights
As far as transport is concerned, the island of Mykonos is easily reachable from all over Europe during the summer period by numerous charter flights of various airlines, organized by the major international tour operators. However, there are frequent flights from Athens and Thessaloniki operated by Olympic Airlines and Aegean Airlines, while for maritime navigation Ferries and hydrofoils depart throughout the year from Piraeus, Rafina, Thessaloniki, Lavrio and Iraklion.

Sea and sun
Among the best beaches to visit we mention the fine golden sand beach of Platis Gialos equipped of numerous taverns where you can have meals while admiring the panorama of the sea. We also remember the beaches of Ornos and Psarou Ornos both made up of fine sand, frequent bus connections connect Chora to Ornos. Located in the west of the island. Tourlos, Aghios Stefanos and Ai Giannis are located near Chora. In the southeastern part of the island of *Mykonos* we find the famous Paradise and Super Paradise beaches, cosmopolitan and very popular in the afternoon. Paradise is the most popular beach on the island, while Super Paradise is the nudist beach. Another beach located in the south-eastern part of the coast is Aghia Anna. Among the largest beaches we mention Elia formed by sand and pebbles and Kalo livadi. Kalafatis is a wonderful cove where it is also located in a small fishing village. During cloudy days or as an alternative to the beaches, you can visit monuments and museums on the island of Mykonos. To see: the Archaeological Museum, the Folklore Museum, the Naval Museum, the Municipal Library and the church of Panagias Paraportianis, in Chora. The monastery of Panagias Tourlianis, in Ano Mera. The windmills scattered almost everywhere, one of the characteristics of the island of Mykonos. Finally called the Little Greek Venice, the village of Alefkantra-Scarpa, is characteristic for the houses close to the sea.

Related topics - ionian islands saronic islands malpensa airport islands of greece