Archipelago
Characteristic Santorini is the southernmost island of the Cyclades archipelago. Of volcanic origin, Santorini offers splendid natural beauty with gray sand beaches and black combined with a clear blue sea. Particular of the island is its volcano around which there are several structures with panoramic views.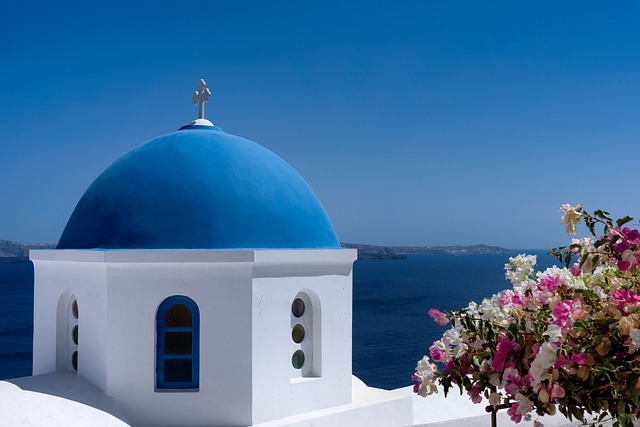 Santorini

Some say that the island of Santorini could be according to an ancient legend the famous Atlantis. Not to be missed during your stay, the visit to Kamari beach, about eight kilometers long, located in the eastern part of the island and to the "red beach" of Akrotiri for its characteristic rocks that emerge with black sand and crystal clear sea.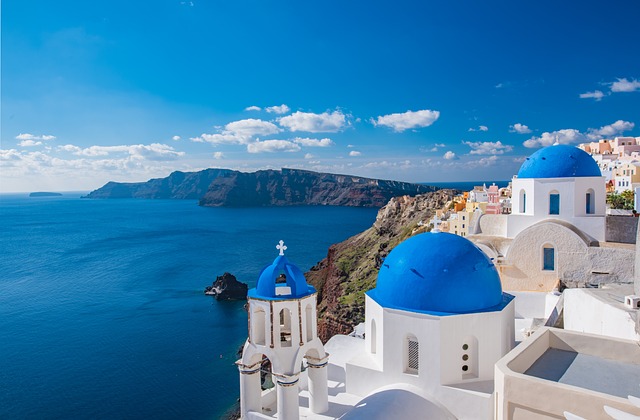 Fira

The capital is Fira with its 1500 inhabitants. From the port it is possible to access the city by climbing hundreds of steps, or by using the cable car. Picturesque for its alleys which sometimes culminate in terraces overlooking the sea, the white houses and the prestigious landscape, Fira is among the most beautiful places in Greece. In the northern part of Santorini, about 11 kilometers from Fira, there are the localities of Firostefani and Imerovigli and Oia formed by small houses carved into the rock, some white and others colored blue. The panorama during sunset is characteristic for the colors of the sky, the sea and the rocks.
Airport
Easily accessible, Santorini Airport is located south of Monólithos about ten kilometers from the capital Fira (Thira in Greek).
Bus services connect the Airport of Santorini with the urban center covering the route in approx 20 minutes. As an alternative it is possible to rent a car or use the taxis located outside of the Arrivals Terminal, so you can reach the other places on the island chosen for the stay, hotel or apartment.

During the summer period from the airport of Athens there are about 6 daily air connections with the flight duration of 40 minutes, while in winter they are reduced to 2. Also in summer from the other islands of Greece there are direct flights: from Mykonos 5 weekly flights, from Rhodes 3 and two from Thessaloniki.

The geographic location of santorini airport is
Longitude: 25° 28' 59'' E
Latitude: 36° 24' 0'' N,
the airport abbreviations are
IATA code: JTR
ICAO code: LGSR

The main airlines operating flights to santorini airport are
Aegean Airlines , Olympic Air , Norwegian.

The relatively small Santorini Airport hosts inside a small duty-free shop and two refreshment points. In recent years the facilities of Santorini airport have been improved with new check-in counters, conveyor belts, escalator systems and other services for passengers, to make the growing influx more comfortable of tourists on the island.

With the characteristic villages the Island of Santorini represents a wonderful panorama and fantastic in colors and landscapes, with white houses built on rocky slopes.
Geographically the Island of Santorini belongs to the Cyclades archipelago formed by about 39 islands of which only 24 are inhabited. The most important are Amorgos, Anafi, Andros, Antiparos, Delos, Ios, Kea, Kimolos, Folegandros, Milos, Mikonos, Naxos, Paros, Santorini, Serifos, Sikinos, Sifnos, Syros and Tinos.
The weather and the climate in the Island of Santorini enjoy, due to the particular geographical position, of mild winters and hot summers refreshed by the characteristic seasonal winds. While the summers they are very sunny and with little rain. In general, the Aegean islands have a mild and temperate climate.

Beaches
Of volcanic origin, the territory of the Island of Santorini has the shape of a horseshoe, with the inside steep and craggy, while the outside presents itself with a gentle inclination towards the sea forming several sandy beaches.
One of the most beautiful and famous beaches in the Island of Santorini is the one located in the vicinity of the village of Akrotiri e it is named for its color Red Beach. Also in the area is the White beach reachable by car or by boats from the ports of Akrotiri and Fira.
Among other beaches frequented by hotels and taverns, we mention Kamari, Monolithos and Perissa, the latter characteristic for the dark sand, Vlichada original of its kind for the fantastic colors of the volcanic rocks. the beach of Kokkini Paralia instead stands out for the red color of the sand deriving from the volcanic lava, while Mesa Pigadia is characterized by numerous caves. To visit the beach of Lefki Paralia you have to use the boat departing from Akrotiri, that of Eksomiti owns the coast with shallow waters. Finally the beaches of Perivolos, Aghios Georgios, Katharos, Mpaksedes, Mesa Pigadia, Apothikes, Pelonia, Kampia, Exomitis, Armenians, Kolumpo, Pori, Armenaki, Ammoudi, Katharos and Baxedes.
Other beaches to visit are, that of Perissa located about 15 km southeast of Fira, characteristic for the long stretch of black sand. We also remember Kamari about 4.5 km long and 200 meters wide, Red Beach, Monolithos, Perivolos and Mesa Pigadia.

Volcano
The most important feature of this place is the submerged volcano, in 1500 BC. there was the first eruption of the volcano, moreover some scientists claim that this phenomenon may have been the cause of the destruction of the Minoan civilization. the volcano of Island of Santorini however, it can be visited on daily cruises, during excursions they are visible the fumes of steam and the black formations of solidified lava. With a journey of 20 minutes you arrive on the coast in a lunar landscape, finally we reach the central crater Nea Kameni where from openings the sulfur vapor comes out. While the oldest volcano Palea Kameni, offers hot springs of thermal waters.

Excursions
Trips and excursions are the best way to get to know the natural beauties of the island of Santorini to discover the most interesting aspects. Among the major ones that can be booked online or on site, we mention:
The visit of the Volcano,
consists in going up the paths that lead to the three craters of the volcano which in 1500 BC. completely destroyed the island of Santorini. Continuation by boat to the springs where you will have the opportunity to immerse yourself in the sulphurous waters.
Akrotiri,
visit of the urban center and of the important archaeological site.
Trip to the fantastic island of Thirassia.
Oia,
also called La, a picturesque Greek village where you can admire a beautiful sunset.
Ios Island,
located near Santorini, it can be reached in about two hours by hydrofoil.
The excursions can be booked online or with the staff available to the various tour operators and with the travel agencies present on site.

General information
the currency currently in use is the Euro, equivalent to 340.75 of the old Drachmas. The electric current used corresponds to the 220V of the European standard, while the spoken language is modern Greek, with particular diffusion in tourist resorts of English, Italian and French. Greece has belonged to the European Union since 1981, also adhering to the Schengen Treaty 1 January 2000. The time zone is one hour ahead of Italy.
According to the Treaty of Shenghen, European citizens can move throughout the Greek territory without be subjected to identity checks at the border, however it is advisable to have a document with you ID valid for registration in hotels and during check-in at airports.

Hotels
The Hellenic National Tourist Board divides the hotels into categories based on certain requirements such as the variety and size of the structures, the room furnishings, the interior decorations, the size of the rooms and the services offered to tourists. In general, the classification is equivalent to that of Italian tourism as follows: Luxury = Luxury. A = first category/4 stars, B = second category/3 stars, C = third category/2 stars. Some ancillary services such as recreational activities and sports facilities, as well as the services connected to them, may remain inactive if climatic conditions or technical failures prevent their correct functioning. In this regard, it should be noted that a refund cannot be requested for such deficiencies. Except where not expressly indicated, ancillary services such as rental of umbrellas, deck chairs, sports activities in general and excursions, are always intended for a fee. Sun loungers, deck chairs and umbrellas on the beach and in the swimming pools, are available subject to availability.

Urban Centers
Due to its particular architectural style of houses, the capital of the island Fira stands out from other cities, to visit during the excursions the Catholic Cathedral, the Orthodox Cathedral, the Archaeological Museum, the Historical and Archaeological Museum of Prehistoric Thira, The Folklore Museum and the cultural center "Belonio".
Other urban centers are the former medieval stronghold of Emporio, equipped with very narrow streets and the famous Square Tower, the village of Akrotiri, important for its archaeological finds with the Prehistoric City to visit, the tourist resort of Kamari with the original Byzantine church of Episcope, The fantastic urban center with the panoramic view of the open sea of Imerovigli with the Venetian Castle of Skaros everything to discover and the large village of Pirgos located inland. Also worth seeing is the city of Ia, where the sunset impresses with its wonderful colors in the Aegean and finally the Naval Museum the cosmopolitan and tourist resort of Perissa, with the particular black beach and its vicinity the ancient city of Thira.

Gastronomy
The typical genuine local dishes of the gastronomy of Santorini are generally tasted in the taverns and in taverns. Among the best known specialties we mention the 'Chtapodi' of grilled octopus, the 'Kalamarakia' fried or grilled calamari and the 'Barbunia' the red mullet cooked in different ways. The 'Moussaka' consists of aubergines combined with minced meat, tomato sauce and potatoes, the 'Koptopoulo' chicken and the pork 'Gourounopolo' are served with different cooking methods, while the 'Paidakia' they are tasty grilled lamb cutlets. Each meal is paired with tasty salad typical of the place 'Salata Koriatiki' consisting of tomatoes, cucumbers, feta cheese, black olives and onions, seasoned with olive oil. In the central regions the 'Stifado' is a widespread dish, consisting of braised veal with onions and natural flavourings, generally served together with 'Dolmades', vine leaves stuffed with minced meat and rice.
The methodologies of the preparation of the dishes, in the kitchen was already in use in ancient Greece, different types of ingredients and spices were mixed in order to make the dishes tasty and savory. The art of Greek cooking is centuries-old and excels in tradition and quality with over 25 centuries of existence. When in history the Romans made contact with the Greeks, they knew how to appreciate their cooks by introducing the original Greek cuisine with Mediterranean ingredients and their flavors of the Orient. The wealthy patricians hired cooks from the Greek colonies and Sicilian cities to serve them.

Maritime transport
Regarding sea transport, Santorini turns out to be connected with most of the Cyclades Islands, Crete, Dodecanese and Thessaloniki. Throughout the year a dense network of boats operates connections with hydrofoils and ferries from Piraeus, Thessaloniki and Iraklion. Further information can be requested at Port Authority of Santorini (Fira) .

Cruises
Several shipping companies operate cruises to the island of Santorini. Among these lasting seven days you have as destination Mykonos, Santorini and Rhodes. With departures and arrivals in Venice, Katakolon itineraries to see Olympia, the archaeological site of the first sports competitions. Continuation and stops towards Santorini, with its splendid natural beauties and beaches of gray and black sand combined with a clear blue sea, with the typical houses of Thira with domed roofs blue and the panoramas of the rocky walls overlooking the sea. Mykonos in the Cyclades archipelago with the charm of the characteristic white houses, the paved alleys and the typical windmills. And finally the characteristic of Rhodes with clear skies and bright sunshine, with its historic medieval city and the acropolis of Lindos. Return to Venice with a stop in Dubrovnik in Croatia.

Altogether the island of Santorini occupies an area of 96 sq km with it has a perimeter coastal strip 69 km long, while its length reaches 18 km. The resident population has about 7,000 inhabitants during the winter and in the summer they can become even 20,000 due to tourist flows.

Related topics - ionian islands malpensa airport islands of greece