Flights low cost
The major airlines specializing in low-cost flights are Ryanair, Easy Jet, Air Berlin e, Wind Jet. Founded in 1985 by the Irish businessman Tony Ryan, it began its activity on the section linking Waterford and London Gatwick. It is currently the most important low-cost airline in Europe, operating with around 951 routes and connects 26 European countries and North Africa.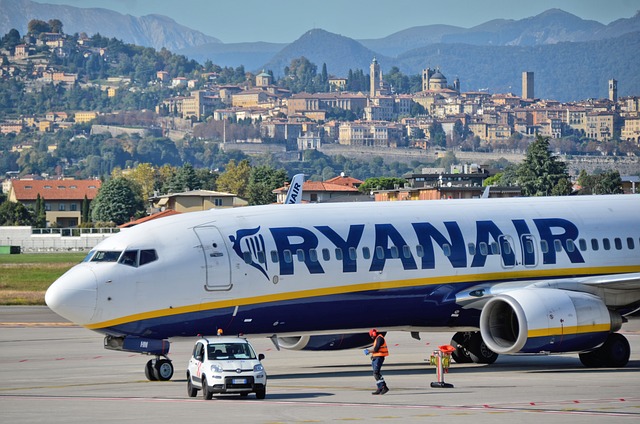 Hub
Based in Dublin Ryanair is an Irish airline while the main operational base is London Stansted airport in Great Britain. Of all airlines, Ryanair has been characterized by rapid and continuous expansion, made possible by the deregulation of the European airline industry in 1997, and over the years of operation it has become a profitable airline, earning substantial profit margins by applying the economic policy of low-cost flights.



Destinations
The low-cost airline Ryanair offers many routes to Europe with departures from Bergamo Orio al Serio airport, allowing air travel with discounted fares and special offers at really low and advantageous prices to the towns of Budapest, Krakow, Warsaw , Modlin , Vilnius , Barcelona, Girona, Bari , Bratislava , Bremen , Wroclaw , Brno , Brussels, Charleroi , Constance , Düsseldorf , Eindhoven , Frankfurt, Groningen , Leipzig Halle , Lourdes Pyrenees , Maastricht , Malaga , Oslo Torp , Palma , Paris Beauvais , Patras , Perugia , Pescara , Poznan , Rome Ciampino , Rome Fiumicino , Thessaloniki , Santander , Zaragoza , Valencia , Volos , Lódz, Hamburg-Lübeck, Berlin Schönefeld , Billund , Birmingham, Bristol , Cagliari , East Midlands, Gothenburg City, Leeds Bradford , London-Stansted , Madrid , Manchester, Oslo Rygge, Porto , Santiago Compostela, Trapani ,Alghero , Brindisi, Lamezia , Palermo , Alicante , Ibiza , Seville , Fez, Stockholm Skavsta, Dublin, Glasgow Prestwick , Kefalonia , Chania (crete) , Corfu , Cork , Kos , Lanzarote , Marrakesh , Pafos , Rhodes , Knock Ireland West, Tampere , Lappeenranta , Riga , Tallinn, Fuerteventura , Gran Canaria and South Tenerife.

Low cost flights
In particular, Ryanair was the first low cost company to be founded in Europe, importing the American low cost model to the Old Continent to compete against the monopoly of European scheduled airlines. On an economic level, the strategy of low cost flights low cost flights applied by Ryanair consists of flights assigned mainly to smaller airports, decentralized from major urban centers and willing to offer low landing rates, on the reduction of airport services and on-board services. In the face of the reduction of passenger services, low cost airlines apply lower prices to tickets than those charged by traditional scheduled airlines.

Destinations
The destinations reached by Ryanair with departures from Orio al Serio airport from Bergamo are: Alghero, Alicante, Hamburg-Lübeck, Barcelona-El Prat, Barcelona-Girona, Bari, Berlin-Schönefeld, Billund, Bratislava/Vienna, Bremen, Wroclaw, Brindisi, Bristol, Brno, Brussels-Charleroi, Budapest T2, Cagliari, Kefalonia, Constanta, Corfu, Cork, Krakow, Crete-Chania, Dublin, Düsseldorf-Weeze, East Midlands, Eindhoven, Fez, Frankfurt-Hahn, Fuerteventura, Glasgow-Prestwick, Gothenburg City, Gran Canaria, Groningen, Ibiza, Knock Ireland West, Kos , Lamezia Terme, Lanzarote, Lappenranta, Leeds/Bradford, Leipzig/Halle, Lodz, London-Stansted, Lourdes, Maastricht, Madrid, Malaga, Manchester T3, Marrakesh, Oslo-Rygge, Oslo-Torp, Pafo, Palermo, Palma de Mallorca , Paris-Beauvais, Patras, Perugia, Pescara, Porto, Poznan, Riga, Rhodes, Rome-Ciampino, Rome-Fiumicino, Thessaloniki, Santander, Santiago de Compostela, Zaragoza, Seville, Stockholm-Skavsta, Tallinn, Tampere, Tenerife-South , Trapani, Valencia, Warsaw-Modlin, Vilnius and Volos. Some of the above destinations are provided with departures And arrivals also from Malpensa Airport All accessible with low-cost airline tickets or offers last minute for the holidays.

Base of operations
In March 2009, the Irish low-cost airline Ryanair inaugurated two new bases in Italy, at Cagliari Elmas airport and Bologna Marconi airport. In October 2010 Ryanair strengthened its presence at Bologna airport with flights to Krakow, Zaragoza, Fez, Tenerife, London Gatwick, Lanzarote, Marrakech, Porto and Palermo. With main operational base in London Stansted Ryanair serves over 140 airports in 26 European countries including Portugal, Spain, France, Italy, United Kingdom, Sweden, Norway, Denmark, Belgium, Germany, Holland, Poland, Slovakia and Africa. Territory

Check in
It is possible to check-in online from 15 days to 4 hours before the flight departure time. In this regard, we remind you that it is mandatory to print the boarding pass in A4 format and present it at check-in or directly at the boarding gate. Failure to print the boarding pass will result in the payment of a supplement at the airport for reissue, possible up to 40 minutes before departure. At Orio al Serio Airport in Bergamo, boarding for departures closes 20 minutes before flight departure, it is necessary to show a valid travel document and boarding pass. No seats are allocated on board the aircraft, except for those who have chosen the priority boarding option, subject to a fee, who will be boarded first. As far as hand baggage is concerned, only one hand baggage with a maximum weight of 10 kg and maximum dimensions of 55cm x 40cm x 20cm is allowed on board free of charge, remember that handbags, airport purchases, cameras or computers laptops, etc. They are considered hand luggage. Failure to comply with these rules at the boarding gate will result in the obligation to check in the baggage upon payment of a supplement and Ryanair reserve the right to deny boarding.