Flights
Many of the major international airports connect the city of Miami in Florida via scheduled flights, United States of America. The Miami International Airport is located just 6 kilometers west of the city center and 10 miles from its famous beaches, has three terminals, North, Central and South, serving about 80 airlines.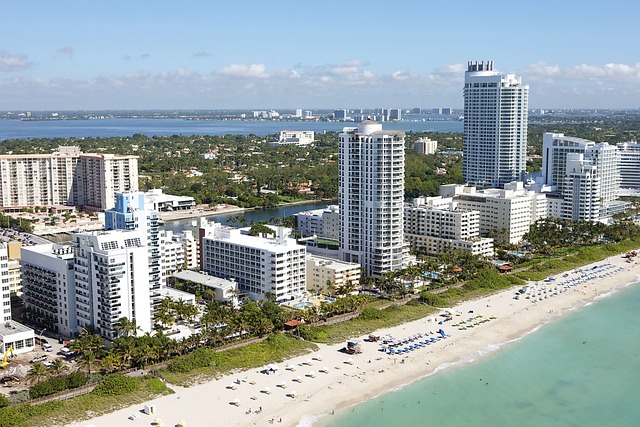 Climate
The city of Miami is located in the southern part of the state of Florida, in the southeastern tip of the United States. Due to its geographical position, the city enjoys a tropical climate with extremely mild winters, hot and humid summers and the rainy season mainly concentrated in the end of the year. summer-early autumn sometimes with severe hurricanes.


Airports
Miami has two airports, Miami International Airport (MIA) closer to the city with more connections available by public bus services, private shuttles, taxis and limousines, and Fort Lauderdale Hollywood International Airport (FLL) approximately 30 miles north of Miami, an economic alternative to Miami International, above all because it is served by low-cost airlines such as Southwest Airlines and JetBlue. The journey from Fort Lauderdale Hollywood to Miami Beach by bus is tough about two hours.

Recommended period
South Florida's warm climate was the only factor in favoring the area's population. The ideal time to visit Miami Beach is between December and May, when average temperatures are around 15-30 °C and rainfall is scarce. Summer is very hot and humid, with daily afternoon thunderstorms. June is the rainiest month, August the hottest. Due to the humidity, the temperature is much more unbearable than the one indicated by the mercury column.

Evaluate
The local currency in Miami as in all of the United States is the US dollar, the American banknotes, called bills, often confuse visitors because the various denominations have the same color and the same size, therefore make be careful not to pay with too high denomination banknotes, and always check the change carefully. It is advisable not to take tickets that are damaged or with even slight tears, because they are often not accepted, there are 1, 2, 5, 10, 20, 50 and 100 dollar bills in circulation. Coins in circulation are 1 (penny), 5 (nickel), 10 (dime) and 25 (quarter) cents, in addition to the dollar coin. Depending on location and time of year a nice hotel will cost you $120 a night and settle down to $170-250 if you choose a hip hotel in South Beach. . Some museums such as the Bass Museum of Art, the Historical Museum of Southern Florida and the Miami Art Museum offer free admission on certain days of the week. Prices are a bit lower in the Keys especially for accommodation and meals, but not in the luxury segment. The Keys are islands and water and petrol can cost up there at a dollar more than on the mainland.

Turismo
In considerazione di questo clima favorevole Miami soprattutto nella stagione invernale quando molte città del nord sono in una morsa di gelo, come tutta la Florida, è tra le mete turistiche più ricercate durante quasi tutto l'arco dell'anno, proprio per questo ha sviluppato strutture di ricezione alberghiera di primo livello.

Urban Center
The urban area of Miami called the Greater Miami Area , includes Miami and Miami Beach as well as characteristic suburbs such as Little Havana and Little Haiti, is a mix of races and cultures, giving the city an international perspective, the tourist will therefore find himself in a place enlivened by flavours, language, music, politics and the Latin American spirit. Miami Beach, built on a shoal that crosses Biscayne Bay, is inhabited by many immigrants from New York, young artists and by men of culture.

Attractions
Among the major tourist attractions to visit during travel and vacations in Miami we highlight, Jungle Island, University of Miami, Villa Vizcaya, Bayside Marketplace, Coconut Grove, Everglades National Park, Fairchild Tropical Garden, Little Havana, Miami Metro Zoo, Miami Art Museum, Miami Seaquarium, Monkey Jungle and Museum of Contemporary.

Miami Seaquarium
In Key Biscayne there is the Miami Seaquarium, an interesting 38-acre marine park created to safeguard, protect and educate people about aquatic creatures. Shows and exhibits include a tropical shoal, the Shark Channel, with fish feeding presentations, and Discovery Bay, a natural habitat that serves as a refuge for rehabilitating rescued sea turtles. At the Miami Seaquarium. it is possible to see the various marine species and watch the performance of dolphins as they walk on the water and orcas as they leap out of the water. Interesting for fans of the marine world and for children where they can see up close many marine species.

Excursions
Among the main excursions practiced, the visit to the Everglades to discover a unique natural landscape, traveling in the swamps on airboats in search of the alligator. Everglades National Park is a United States protected natural area that protects the southern portion of the Everglades south of Tamiami Trail, but represents only 20% of the original area. Everglades National Park is surrounded by the urban and agricultural areas of Miami, Homestead and Florida City to the east, the Florida Straits and Florida Keys to the south, the Gulf of Mexico to the west, and Big Cypress National Preserve to the north. Big Cypress is similar to the north end of the Everglades and is approximately half the size of the park itself. On the southwestern edge of the park is Ingraham Lake, the southernmost lake in the United States of America. Species in the park include short-tailed eagles, Crotophaga ani, Caribbean flamingos, and other birds such as herons, egrets, roseate spoonbills, and ibises are abundant, and greater aramids are also easily found Everglades raptors include rare kites and common red-shouldered buzzard and osprey. The stagnant water of Flamingo and the mud of Florida Bay allow the observation of pelicans, waders, sternids and American shearbill. The waterways are inhabited by North American river otters, manatees, Mississippi alligators, and american crocodiles.
The Miami Metrozoo boasts more than 200 species of animals, including Bengal tigers, pygmy hippos, condors, koalas, black rhinos and a pair of Komodo monitor lizards.
To visit, in southern Florida, Key West, crossing the 42 bridges of the Overseas Highway to admire crystal clear waters and memorable landscapes. Key West is the southernmost island of the Florida Keys, it can be reached by driving along the entire U.S.1. , from Miami it is about 270 kilometers. A fantastic journey crossing 34 islets and 42 bridges. It was the favorite island of Ernest Hemingway and US President Harry Truman. Currently the respective houses are public museums interesting to visit. Key West is a transgressive island with a frenetic nightlife, many clubs and bars in the center open all night.
Located in the extreme south of mainland America, Key West is a small island, actually closer to the island of Cuba than to Miami. It is a very charming place, offering modern attractions among picturesque streets lined with palm trees, centuries-old buildings and flamboyant inhabitants. The 2 by 4 mile island features a vibrant arts community.
Key Biscayne is an island south of Miami Beach and represents a valid alternative for those who, at least for one day, want to escape from the hustle and bustle of Miami South Beach. The island is easily accessible, there is no need for ferries but you can get there by car by taking the Rickenbacker Causeway from Brickell and then following Crandon Boulevard. It is a true oasis of peace: nature lovers will be able to breathe a completely different air from that found just a few miles further north

Shopping
As for shopping, Bayside Marketplace is the perfect place to shop in Miami and enjoy some quiet time before to return to the hotel.

Low cost flights
In particular during the months of April and May, travel agencies and tour operators organize travel offers last minute, personally with departures from malpensa airport I have found really cheap cheap deals inclusive of stay in hotels. To compare the prices of flights and hotels, you can consult the website Booking where it is possible to select the accommodation facilities.

Telephone
In the USA, cell phones use the GSM 1900 or CDMA 800 networks, which operate on different frequencies than the systems of other countries. The only foreign cell phones that work in the US are the tri-band models, which operate on the GSM 1900 network and other frequencies. If you have a tri-band GSM phone, ask your service provider about usage in the US, but note that calls will be more expensive than making calls using your home network, given US carrier rates. Your mobile phone number remains the same and whoever calls you will be automatically connected to your device. You may be able to use your SIM card by installing it in a US-compatible rental cell phone, so you can use the rental phone as if it were your own: same number, same basic rates. Ask your mobile phone company if you can use your SIM card for global or international roaming. You can rent a cell phone for approximately USD $45.00 per week, but rates may vary. Phone shops in the USA allow you to rent a GSM 1900 compatible phone with a certain number hours of prepaid calls.

Health
Before leaving for your holidays in Miami, it is advisable to take out health insurance which includes, in addition to covering medical expenses, also air repatriation or transfer to another country, since medical and hospital expenses are very expensive in the US.

Safety
As far as safety is concerned, remember that Miami has a double homicide rate national rate and a triple the robbery rate. While criminals rarely take an interest in tourists, it's best to be careful, especially in Overtown, Liberty City and Little Haiti. Danger comes from aggressive wanderers and robbers. Avoid wandering around here at night. In Downtown Miami, be extra careful around Overtown, the Greyhound station, and bridges and walkways where the homeless seek refuge. Among the natural hazards, we mention the sun, mosquitoes, hurricanes between June and November.

Web cam
Through the Earthcam site it is possible to view live the webcam installed in Miami and other areas of Florida.