Flights
Frankfurt's main airport serves about 110 airlines for 300 with flight arrivals and departures domestic, international and intercontinental destinations. The airport is perfectly connected to the city by both public and private transport. By car it can be reached by taking the motorway, Frankfurter Kreuz, which connects the motorways A3 and A5 and which is the busiest motorway junction in Germany. At the airport there are short- and long-distance car parks, as well as car rental companies.
Trains

In Frankfurt Airport there is the regional and long-distance railway station, is It is possible to reach the main towns of the country by train. Furthermore Frankfurt Airport has its own bus station, located in Terminal 1 opposite arrivals, while the shuttle service is guaranteed by the Lufthansa Airport Bus which allows you to reach the localities of Strasbourg, Augsburg, Mannheim, Marburg/Gießen, Heidelberg. The Shuttle Bus , owned by Lufthansa, it can be used by passengers of any airline.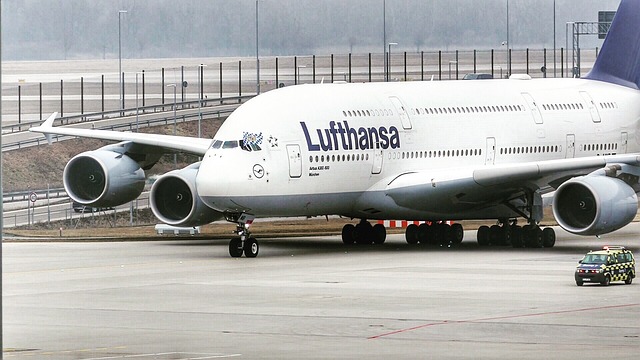 Flights

Hahn Airport Frankfurt has seen its importance grow considerably with the increase in requests for low-cost flights. Located at a certain distance from the city of Frankfurt, about 120 kilometers, it is connected by a shuttle service, which allows you to reach directly the center of Frankfurt, both the main airport, the departures of the shuttles from the airport take place in front of the exit of the Terminal A airport station, while the arrival in Frankfurt is at the train station, on the corner of Stuttgarter Straßec and Mannheimer Straße. At the airport the shuttle stop is near the bus station, at Terminal 1.
Station
Frankfurt Main Station is one of the most important stations in Germany with over 25 tracks and a traffic of 1100 trains serving suburban stations as well as designated trains to the connection of the city and surrounding areas. Given the traffic of rail travelers arriving every day in the city, the main station it is not the only one in Frankfurt. The other train stations are the Frankfurt Flughafen Regionalbahnhof airport station, the Frankfurt Main West West Station, the Frankfurt Ost Frankfurt East, the Frankfurt-Niederrad, the Frankfurt -Rödelheim, the Frankfurt Höchst and the Frankfurt Höchst-Farbwerke.

Transportation
In the city center of Frankfurt the best way to move around the city is to use public transport. At the disposal of tourists there are buses, trams and the underground network. The transport company is unique for the entire Wiesbaden region which allows a single fare for all public transport. There are two airports serving the city of Frankfurt, the Main Airport and Hahn Airport, the latter operating in a particular way with regard to low cost flights.

Climate
In Frankfurt, the climate is characterized by cold winters and muggy summers. During the winter temperatures often drop below freezing and rarely rise above. In summer they can reach 20°C with high humidity which increases the perceived heat. Thunderstorms are also frequent in summer. From a climatic point of view, therefore, the city of Frankfurt is anything but hospitable. The visit can be made at any time of the year, including spring, with the risk of incurring downpours or steep drops in temperature. For tourism in Frankfurt it is recommended to visit the city in the summer while in conjunction with trade fairs or conferences, especially of an international nature, it can be difficult to find high-level accommodation, or in proximity to the Palazzo della Fiera.

The city of Frankfurt is best known for its leading role in the economic world and financial: here are hosted one of the major world stock exchanges, the German Federal Bank, Deutsche Bundesbank and the Central Bank. The architecture of the city is highly influenced by its economic and financial role, if you think that the major skyscrapers that make up the skyline are home to banks.

Must see Skyline and the Main Tower of Frankfurt, Palmengarten, the palm garden. The social center and the shopping streets, the Zeil street full of shops, markets and restaurants. The Frankfurt Cathedral one of the few ancient buildings partially untouched Allied bombs during 1944. Museum banks in Frankfurt.

German cuisine is a rich and caloric cuisine, also due to the pungent climate, usually based of pork, potatoes and ingredients not common to Italian tastes such as gooseberries or cinnamon which season the soups of semolina dumplings.

Cured meats and sausages are among the best dishes, and the savory soups are tasty and original, like pickles. Frankfurt, in particular, is famous for its salsa verde and seasoned cheese slices with vinegar oil and garlic.

Related topics - . j.f. kennedy new york malpensa airport glossary