Flights
The airline Aerolineas Argentinas operates flights departing from Buenos Aires in Argentina from the Ministero Pistarini International airport by . Identified with the Iata airport code EZE, the Argentine airport is located in Ezeiza just 22 kilometers from Buenos Aires, it is one of the busiest airports in South America, it has three terminals, A, B and the recently opened Terminal C, which host over 8 millions of travelers every year.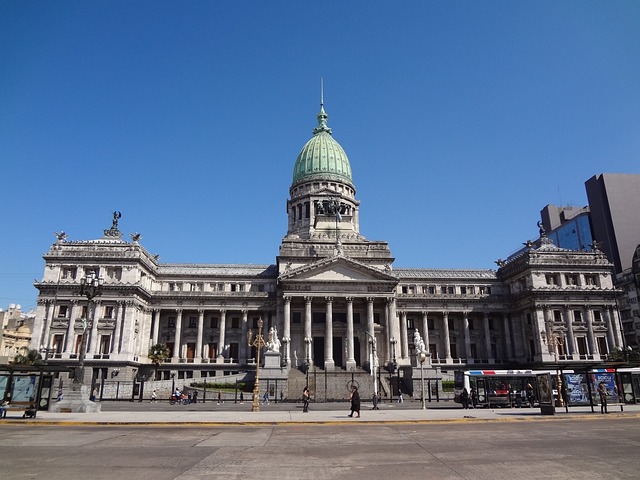 Transportation
Taxis, buses and rental cars are available outside the airport. In Ezeiza airport, operate more than 30 airlines with many direct flights to Atlanta, Georgia, Auckland, New Zealand, Cape Town, South Africa, Barcelona and other cities in Spain. Currently Aerolineas Argentinas offers destinations, in Italy with arrivals at Rome Fiumicino Airport, while TAM operates arrivals towards Malpensa Airport from Milan. Flights from Argentina to Italy and vice versa are also operated by the company Italian flag departing from Rome Fiumicino Airport.


Attractions
Particularly in Argentina , it will be possible to visit the major attractions of the south american country such as the fertile plains of the pampas with big cities of Buenos Aires , the capital located on the bank of the Río de la Plata, where you can visit among other things two important places linked to the name of Evita Peron: the Casa Rosada, in Plaza de Mayo, residence of the President of the Republic, with the famous balcony from which the young Argentine politician spoke to her fellow citizens and the Cementerio de la Recoleta, where she is buried, and Córdoba, heart of the country with the famous Camino Real , the famous Royal Route , also Patagonia with the renowned Tierra del Fuego, the city of Ushuaia, the Iguazú Falls and the imposing Garganta del Diablo the Devil's Throat, the area of the Gran Chaco, connected to the Bermejo, Salado and Pilcomayo rivers with the cities of Chaco and Formosa, characterized by cattle farms from which the tasty Argentine meat derives, Cuyo, country of deserts, the Andes chain with Aconcagua, the highest peak in the western hemisphere. Among the big cities, Rosario, Mendoza, La Plata, Tucumán, Mar del Plata, Salta, Santa Fe and Bahía Blanca are worth a visit. With flights to Argentina you will be able to reach the places declared a World Heritage Site by Unesco for Argentina: the Perito Moreno Glacier, the Valdés Peninsula, the Iguazu Falls National Park, the Quebrada de Humauaca and the Misiones Jesuíticas de los Guaraníes, San Ignacio Mini, Santa Ana, Nuestra Señora de Loreto, Santa María la Mayor.

Local flights
In Argentina, there are 104 airports for air connections in the area, of which the 5 main ones are Ministro Pistarini Airport in Buenos Aires, Pajas Blancas Airport in Cordoba, San Carlos de Bariloche Intl Airport, El Plumerillo Airport and Jorge Newbery Airport in Buenos Aires. Minister Pistarini Airport offers nonstop flights to 48 cities with 34 airlines. Every week, at least 49 domestic flights and 826 international flights depart from Ministro Pistarini Airport. There are currently 8 airlines operating from Cordoba's Pajas Blancas Airport offering nonstop flights to 10 cities. Every week at least 189 domestic flights and 56 flights international flights depart from Pajas Blancas Airport. From San Carlos de Bariloche Intl Airport 6 airlines operate nonstop flights to 8 cities, every week at least 175 domestic flights depart from San Carlos de Bariloche Intl Airport. Currently 6 airlines operate from El Plumerillo Airport. offering nonstop flights to 7 cities, weekly 168 domestic flights and 42 international flights depart from El Plumerillo Airport. At Jorge Newbery Airport 11 airlines operate nonstop flights to 45 cities, offering at least 1,225 domestic and 343 international flights each week. Other cheap flights to Europe from Buenos Aires Argentina are expected to arrive at airports of from Madrid , from Barcelona and Malaga .

Airport stopovers.
In Europe, the airlines that allow connections with Argentina-Italy intermediate stopovers are Lufthansa in Germany, in Great Britain in Birmingham, Glasgow, London Heathrow Airport and Gatwick Airport through British Airways flights or other airlines specializing in low-cost flights. With flights operated by the airline Aerolineas Argentinas, Rome can now be reached in a short time from all parts of Argentina.

Kitchen
As far as local gastronomy is concerned, let us remember that Argentina represents one of the nations with the best quality meat in the world, prepared on the grill - braseros, skewered -asados, grilled - churrascos or boiled - puncheros.
Related topics - john kennedy airport malpensa airport